27 Make-Ahead Holiday Breakfasts
Spend more time with your fam and enjoy not cooking on Christmas morning, because you can prep these easy 27 holiday breakfasts the night before so all you have to do come morning is pop them in the oven!
You don't actually have to work away in the kitchen all morning on Christmas day to enjoy a decadent breakfast or brunch. It is totally possible to have a relaxing, leisurely meal on Christmas morning without barely lifting a finger.
Twas the night before…
These recipes require all of the prep the night before, so all you have to do in the AM is turn on your oven. Your impressed family will think the elves did it. You can savor watching the kiddos open their presents, stay in your pajamas until noon (at the very least), and enjoy more of the magic that is Christmas morning.
Visions of sugarplums…
First on our nice list: 13 treats guaranteed to please the sweet tooths in your family, followed by 14 savory stratas and casseroles that will make you melt faster than Frosty in front of a fire. On Comet, on Cupid!
We'd rather you not bring us a figgy pudding, but you can definitely bring us any one of these dreamy morsels on Christmas morning. Your house will smell like butter and cinnamon. What could be better?
from FoodieCrush
Want sticky buns but don't want want them fast? Enter one of my favorite shortcut recipes ever. Store-bought frozen rolls make these super easy but delightfully delicious pull-apart cinnamon pecan rolls easy to make for any weekend or holiday brunch.
from The Recipe Critic
Need I really say anything more?
from Sally's Baking Addiction
This decadent French toast casserole is stuffed with cream cheese and topped with a warm, crisp cinnamon streusel.
from FoodieCrush
This banana bread inspired French toast is made with store-bought cinnamon swirl bread for an extra layer of flavor and has an awesome, crunchy oat topping. The addition of chocolate chips make it super indulgent.
from Love & Olive Oil
These delicate, buttery flaky buns are almost croissant-like and are scented with sweet marzipan, cinnamon, orange, and orange blossom. Plan to make them a couple of days in advance and then let them chill overnight in the fridge before baking them in the morning.
from Foodess
This buttery, yeasted waffle batter will make your entire house smell like the best bakery come Christmas morning! Smooth on the inside but perfectly crisp on the outside, these waffles have so much flavor thanks to yeast and time and a restful proof overnight.
from FoodieCrush
Individual servings of french toast are an easy make-ahead breakfast. This recipe serves 3 to 4 so double the recipe if you're feeding more.
from FoodieCrush
This easy pull-apart bread starts with frozen dinner rolls that rise overnight and are then baked in the Instant Pot pressure cooker for a sweet and fast cinnamon sugared breakfast or brunch treat.
from Dash and Bella
This overnight French toast has a fluffy soufflé-like texture that is so dreamy. Dusted with a sprinkling of powdered sugar and served with blackberry sauce, it really hits the spot.
from Five Heart Home
Who says bread pudding is only for dessert? The eggnog maple syrup  Go on, let your slow cooker do all the work (you deserve it). Make this the day before and just reheat.
from FoodieCrush
This easy coconut scented baked French toast is made lighter with almond milk, and features an oatmeal crumble topping for a crunchy granola texture.
from Foodiecrush
You can make these cinnamon rolls and let them proof overnight in the fridge, take them out in the morning about 30-40 minutes before baking and let them come to room temperature (still covered), then bake!
from FoodieCrush
This French toast casserole gets an extra dose of special with a sweet and nutty crunch PLUS savory sweet bacon with each bite. Bonus? It can sit in the fridge for up to 2 days before baking.
Tidings of bacon and cheese…
Let's face it, we need protein to sustain us through all of the unwrapping and entertaining that ensue on Christmas morning. That's where our good friends bacon and eggs come in.
For some super sustenance and a meal that will stick to your bones, these breakfast casseroles are just what we want from Santa this year. (Just don't drop the strata!)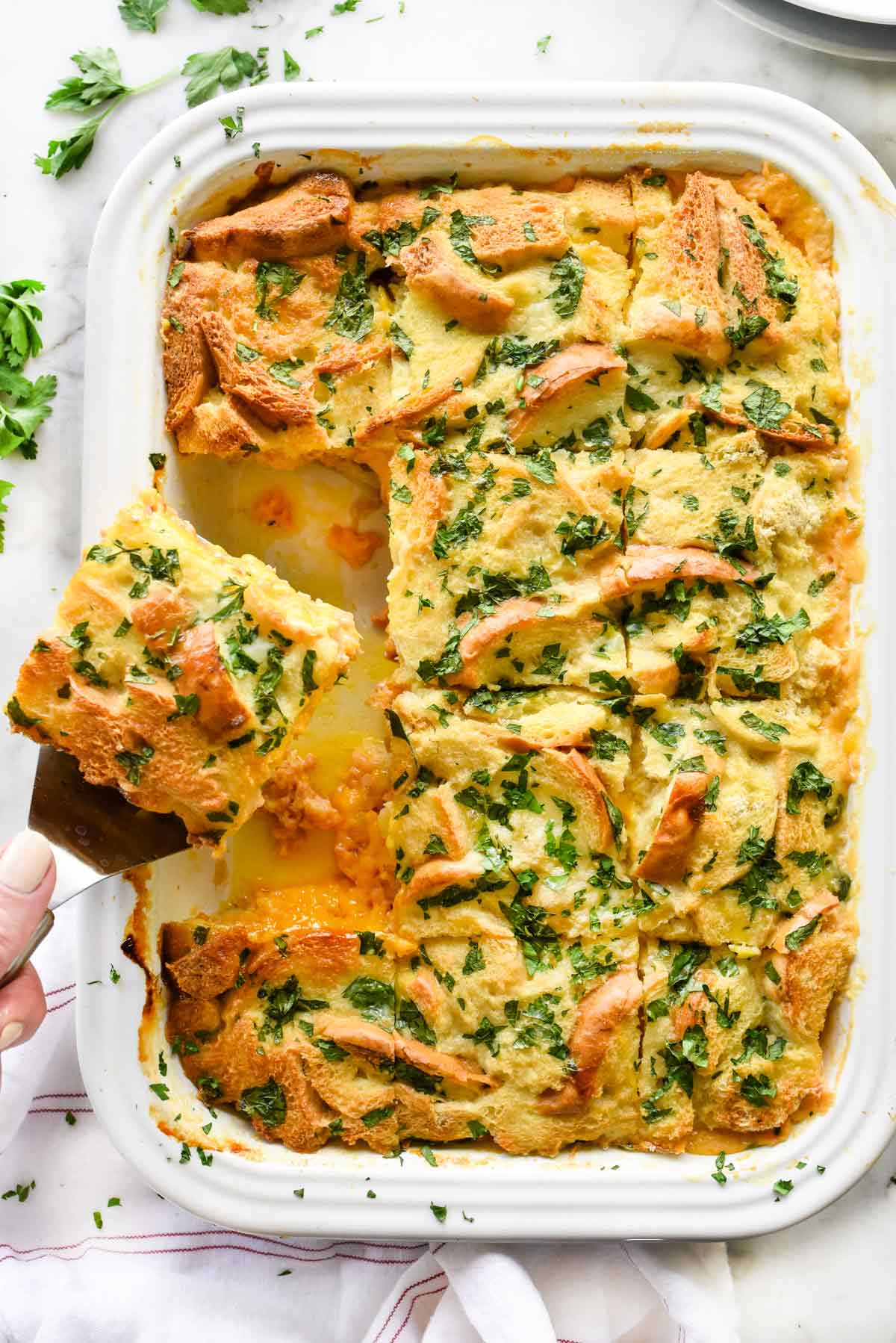 from FoodieCrush
Breakfast for a crowd has never been easier thanks to this incredibly easy to assemble, ham and cheese make-ahead breakfast casserole that some may call a soufflé or a strata, but we just call delicious.
from Sauced Kitchen
This fully loaded breakfast bake is like a savory bread pudding. It's got spinach, breakfast sausage, mozzarella and cheddar, and a whole lot of savory spices and heat, plus an addictively crunchy texture.
from Salt & Wind
Everything you love about this classic French sandwich, in breakfast or brunch bread pudding form. Brilliant.
from FoodieCrush
This deep dish spinach bacon quiche recipe has a tender cream cheese crust that bakes up light and fluffy. Greek yogurt adds a tang and creaminess to the fluffy egg center baked with spinach, sautéed leeks, and crunchy bacon bits.
from Feasting at Home
This breakfast casserole is made with rustic sourdough bread, umami-rich mushrooms, sweet caramelized onions, smoky bacon, creamy goat cheese, and woody thyme for a rich and savory dish that hits all the flavor notes.
from Gimme Some Oven
This super easy breakfast casserole is made with Italian sausage, peppers and onions, egg, and hash browns and is a huge crowd-pleaser.
from The Little Epicurean
This savory vegetarian bread pudding is made with crusty bread, bell peppers, zucchini, kale, Parmesan, and provolone cheese and is packed with amazing flavor.
from Spoon Fork Bacon
Smooth and creamy on the inside and crisp and crunchy on the outside, this sausage and spinach strata is made with a craggy Italian loaf that has been torn (not cut), for the best texture.
from Well Plated by Erin
This colorful egg casserole is healthy, filling, and loaded with healthy veggies, savory Italian flavors, and creamy ricotta.
from Cooking and Beer
This is a fun twist on the breakfast casserole is made with bagels, veggies, spicy chorizo sausage, and a killer homemade ranchero sauce.
from Two Peas and Their Pod
This delicious vegetarian egg casserole is healthy and hearty. Make and bake it the day before and simply reheat in the morning.
from Reluctant Entertainer
Made with Canadian bacon, Swiss cheese, honey mustard, and cranberry orange relish and served with a side of preserves, this casserole is a delightful blend of sweet and savory. Plus, you can make it and refrigerate up to 2 days before baking.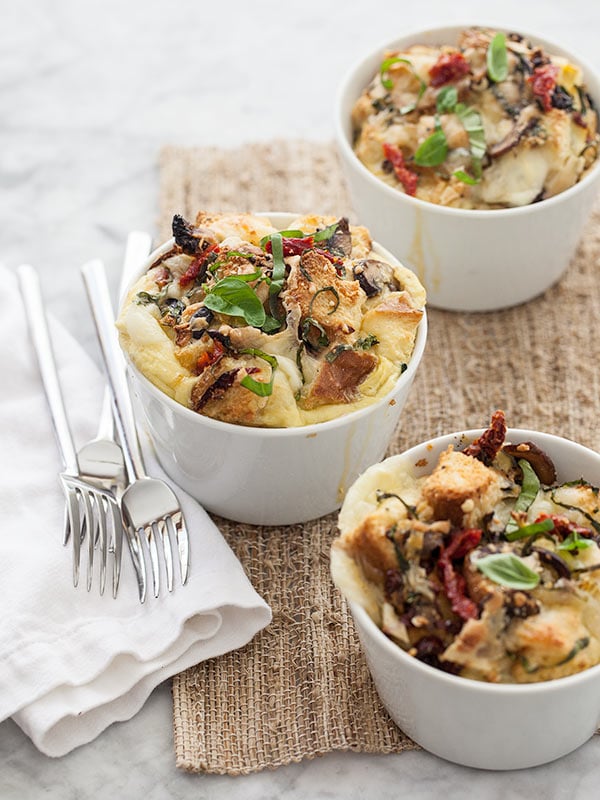 from FoodieCrush
This super easy breakfast strata is full of Mediterranean flavor thanks to kalamata olives, artichoke hearts, basil, and marinated sun dried tomatoes, and it's made extra cheesy with Parmesan and mozzarella.
from FoodieCrush
This classic quiche lorraine recipe is an easy make-ahead breakfast, brunch, or lunch made of creamy egg custard, bacon and cheese filling.
If you make this recipe, please let me know! Leave a ⭐️⭐️⭐️⭐️⭐️ rating on this recipe below and leave a comment, take a photo and tag me on Instagram with #foodiecrusheats.
We send good emails. Subscribe to FoodieCrush and have each post plus exclusive content only for our subscribers delivered straight to your e-mail box.
Follow me on Instagram, Facebook, Pinterest and Twitter for more FoodieCrush inspiration.
As always, thank you for reading and supporting companies I partner with, which allows me to create more unique content and recipes for you. There may be affiliate links in this post of which I receive a small commission. All opinions are always my own.