This is our favorite Corn Chowder with tender veggies, smoky bacon, and sweet corn! This thick & creamy chowder is the ultimate comfort food — nothing better than a big bowl of this with some crusty bread for dunking.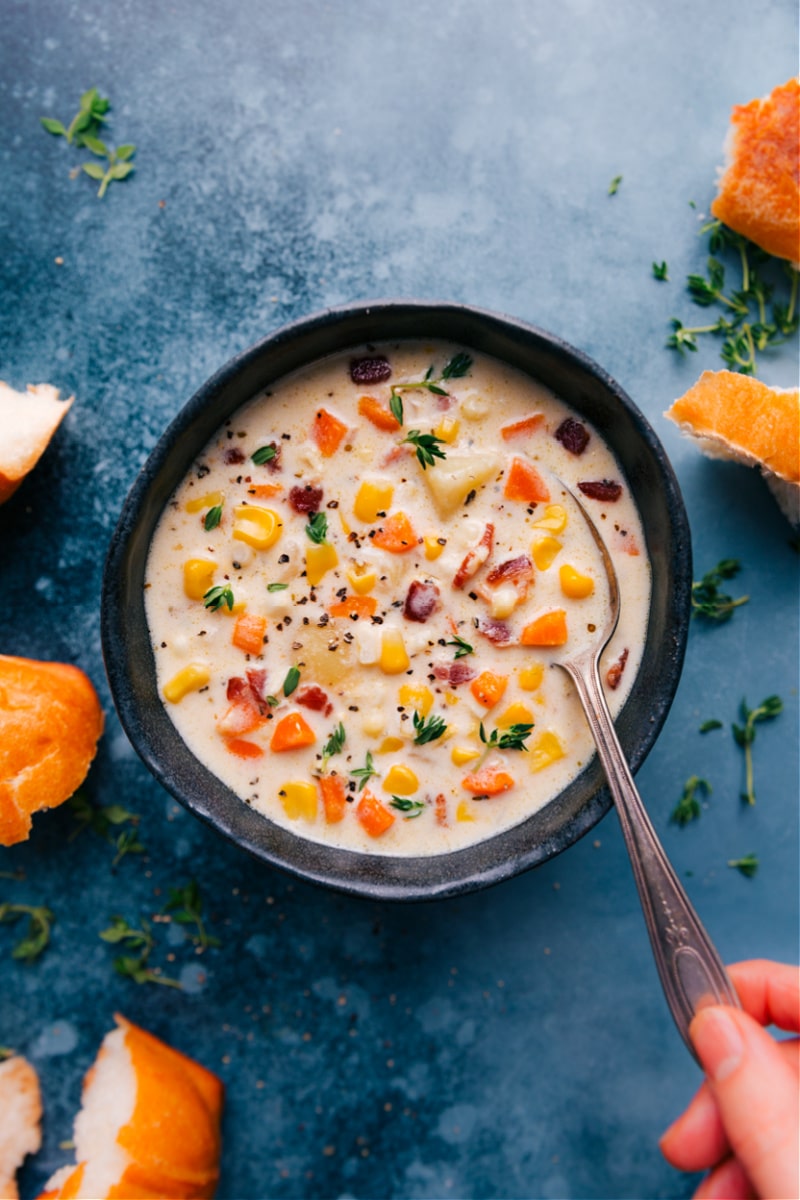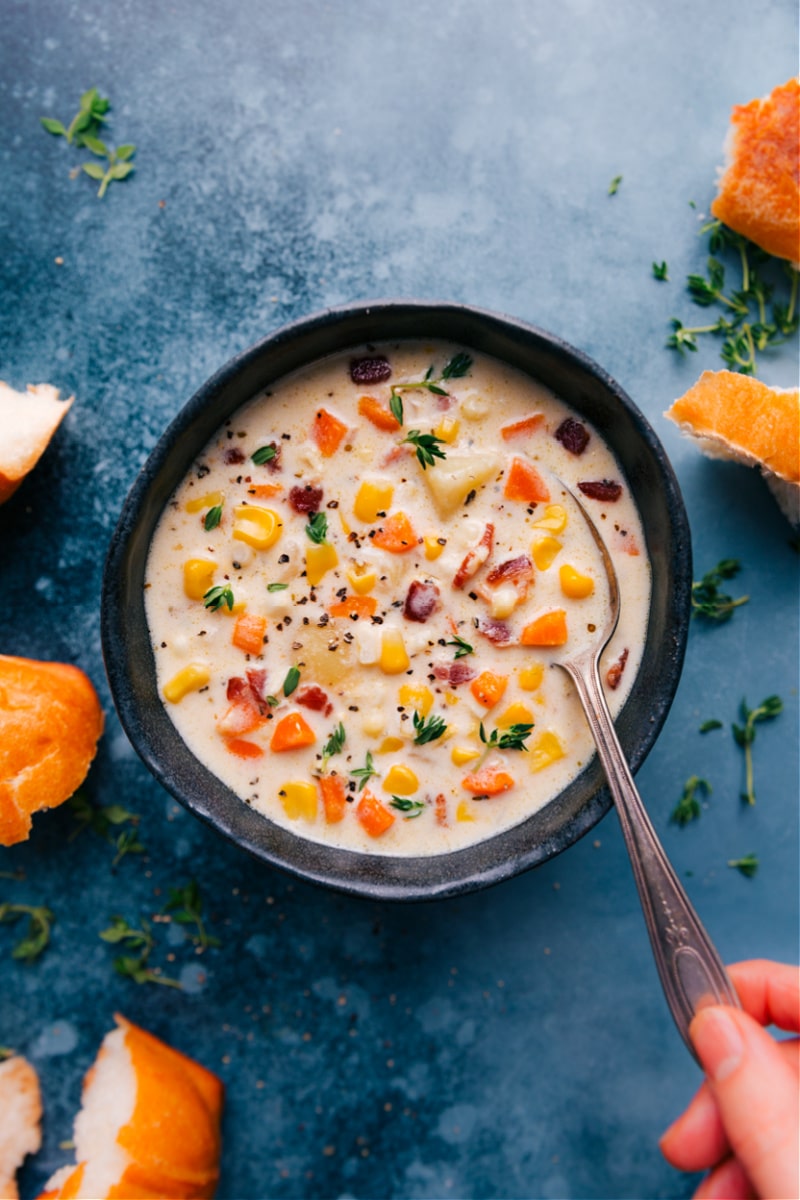 Corn Chowder
We didn't have soups or chowders too often growing up, but if we did, you could bet it would be a corn chowder or tomato basil soup. Corn chowder was a family favorite — no one ever turned their nose up at it and this was a big deal with 9 people to please!
I must not be the only one completely obsessed with corn chowder, because so many of you love it too! In fact, this chicken corn chowder made in the slow cooker is one of the most popular recipes I've ever shared. Today we're changing up the flavor profile a bit and swapping out chicken for bacon. I can't wait to hear what you think of this chowder — enjoy!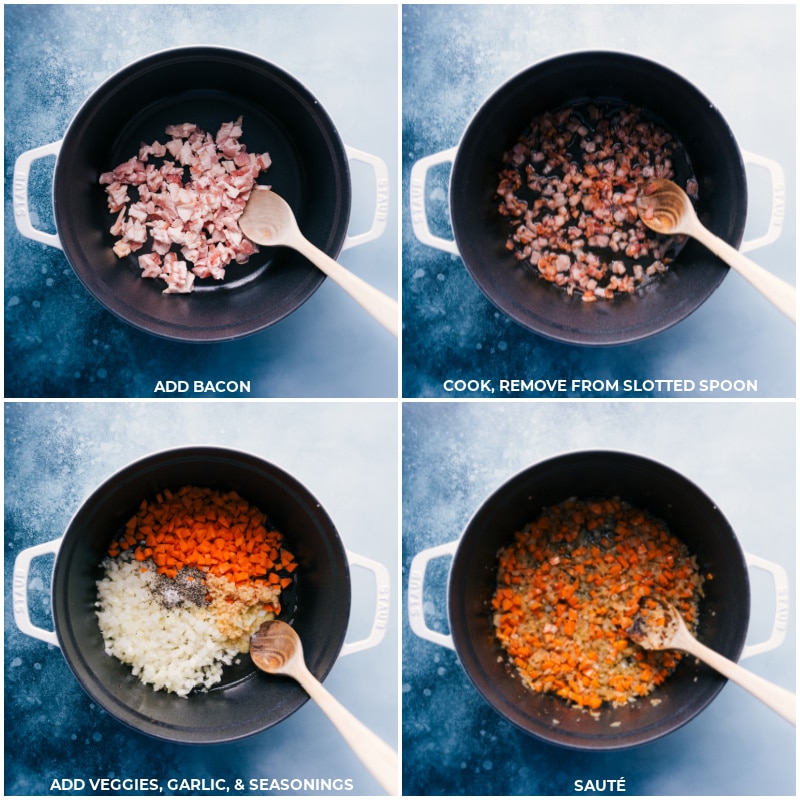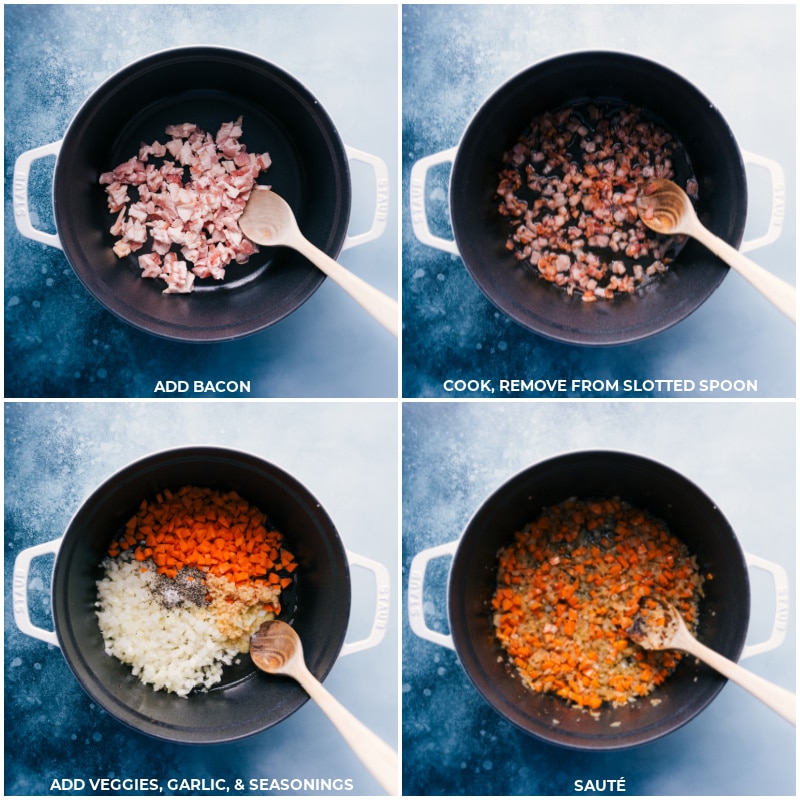 What Can I Do With Corn Cobs? 
Make the the easiest corn stock to create the most delicious Corn Chowder!
A lot of soup recipes start with a homemade chicken, veggie, or beef broth or stock. For most of the recipes shared on this site, we use a good-quality store-bought stock/broth instead of homemade to save time, effort, and ingredients. 
But for this recipe, we create a quick homemade corn stock. Don't worry, there is no additional time or ingredients required. So, how do we do it? By adding the bare corn cobs to the pot as the liquid simmers. Instead of chucking out the corn cobs once you've cut the corn off, throw them in the soup. This adds so much flavor with no extra effort in your end!
(Thanks Saveur for introducing us to this genius idea!)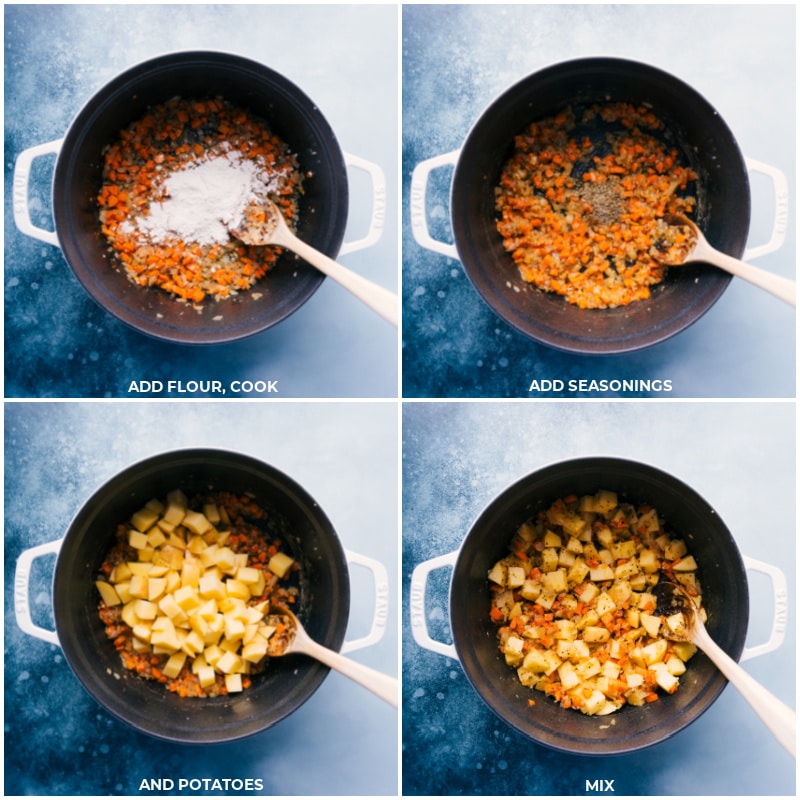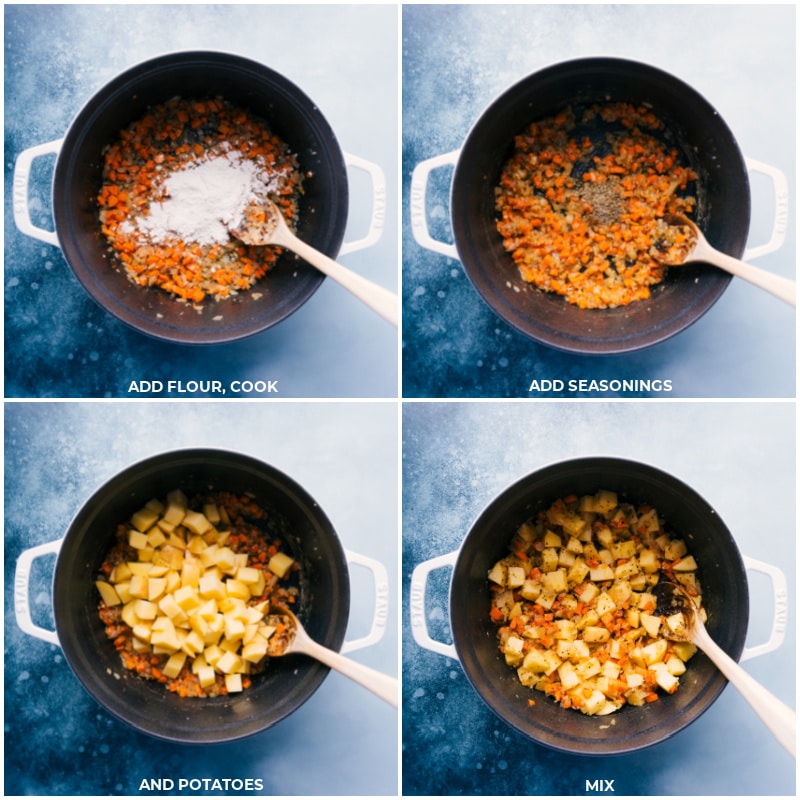 Frozen vs. Fresh Corn
We did make this potato corn chowder with both fresh and frozen corn. Both were delicious, but tasters preferred fresh sweet corn. Fresh corn does require a little bit more work (shucking corn & cutting the corn off the cobs), but we found these extra two steps well worth it for the flavor imbued. 
QUICK TIP
When you get fresh-picked corn, you want to cook it as soon as possible. As soon as corn is picked, the corn actually starts to convert the sugars to starches which reduces the corn's sweetness. If you aren't able to cook it right away, store the corn in the fridge to slow down this process!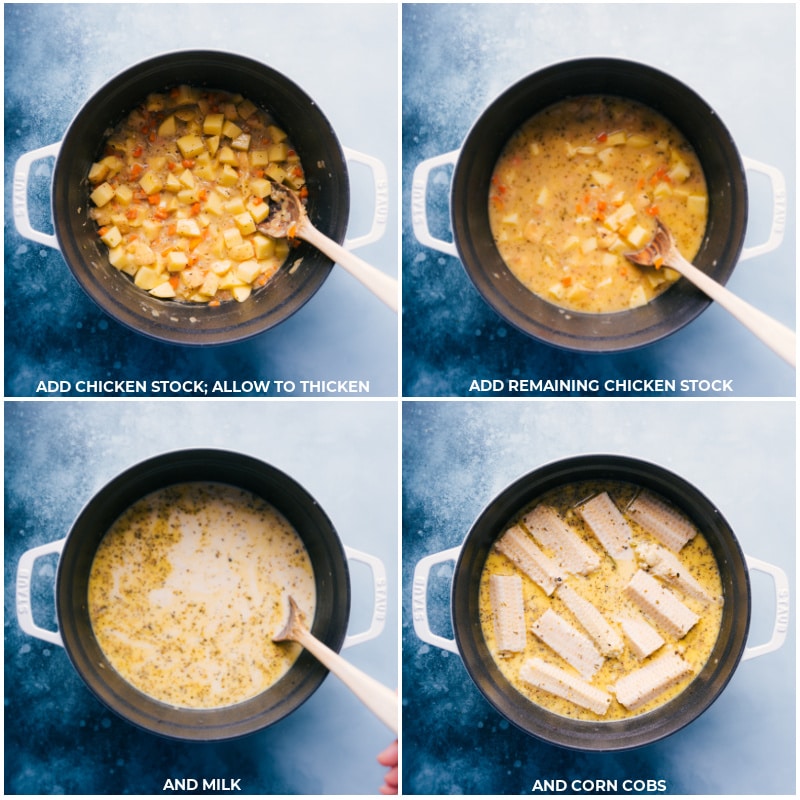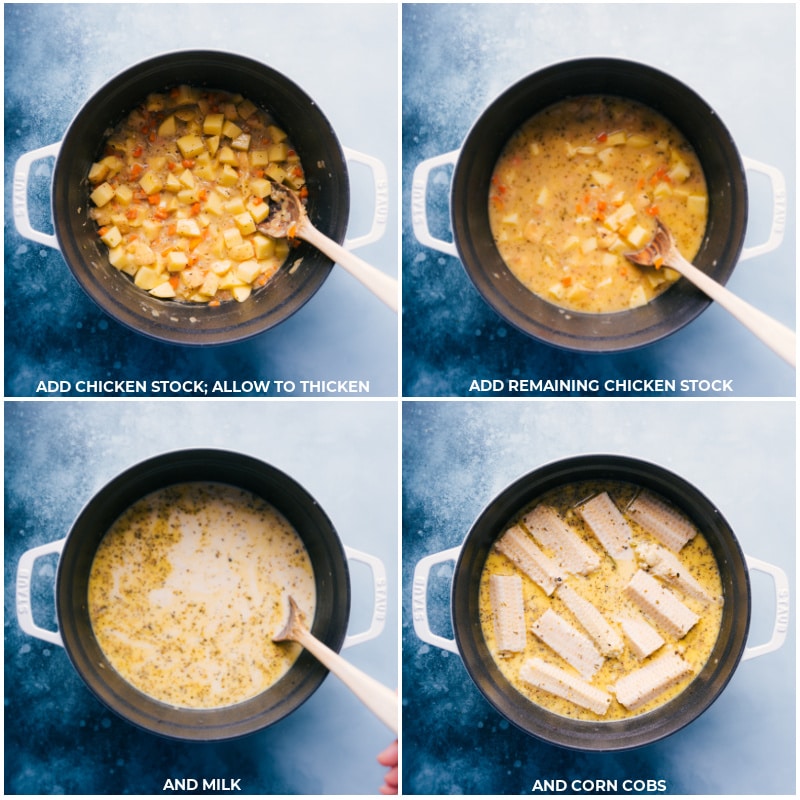 Corn Chowder Ingredients
There are a few key ingredients in Corn Chowder worth going into detail on:
Chicken stock. The better the quality of stock used, the better the chowder will taste! Our personal favorite is Swanson (not sponsored). 
Gold potatoes. Our favorite potatoes in this chowder are Yukon Golds. This variety of potatoes is sweet and buttery and not prone to disintegration as they cook (like some varieties of potatoes). They also have a very delicate/thin skin so they don't have to be peeled for this recipe — nice & easy!
Thick-sliced bacon. To ensure there is plenty of grease (and flavor) left behind, opt for thick-sliced bacon — see "quick tip" below.
QUICK TIP
The only difference between regular and thick-sliced bacon is that thick-sliced bacon is cut into thicker slices. This means we're packing in more bacon and subsequently more grease (and flavor!). If you don't have thick-sliced bacon, you'll want to use extra regular-sliced bacon to make up for it.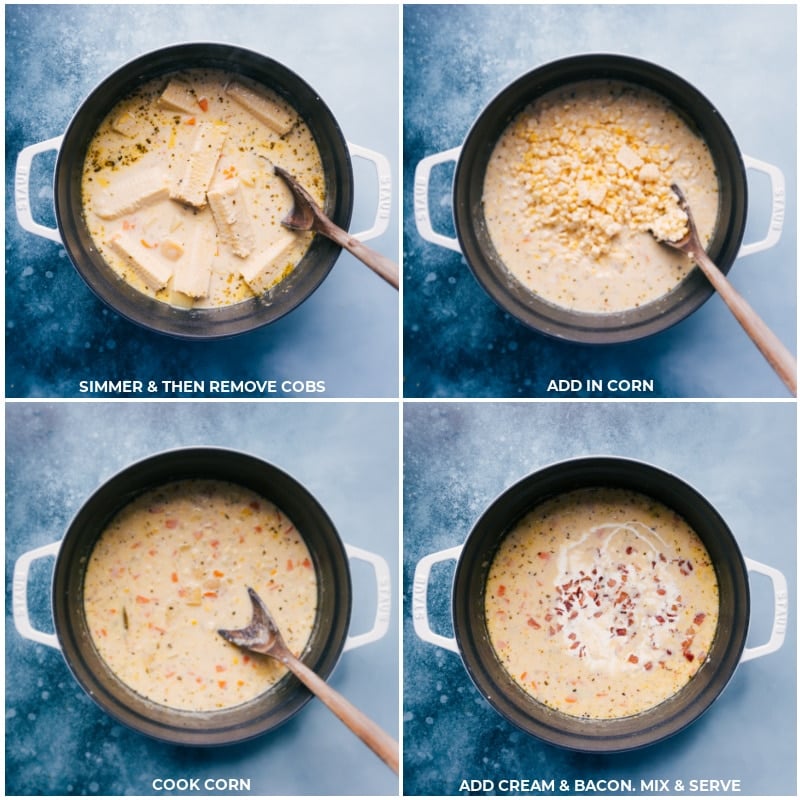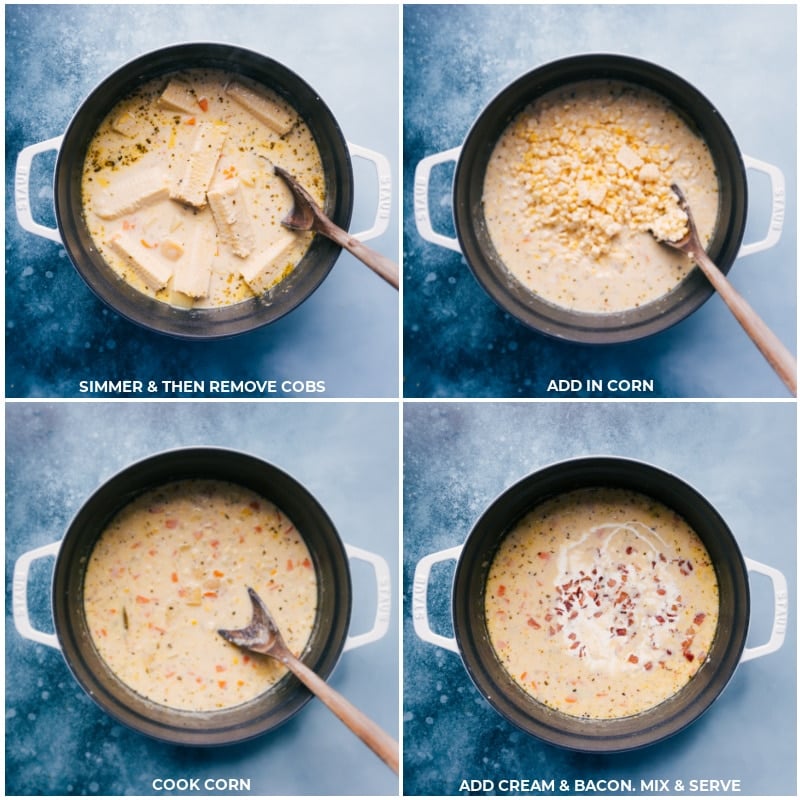 VARIATIONS
Corn Chowder Variations
Corn Chowder Vegetarian: leave out the bacon (add 2-3 tablespoons melted butter to replace the bacon grease) and replace the chicken stock with vegetable stock. You may want to increase seasonings a bit to make up for some of the missing flavor.
Corn Chowder Vegan: make the same changes as the bullet point above and replace heavy cream with coconut cream. Note that the flavor will be slightly different and sweeter. I'd recommend adding some cayenne pepper to balance the sweetness with some spice.
Easy Corn Chowder: for an even easier recipe, try this Potato Corn Chowder from our simple recipes series!
Crockpot Corn Chowder: I don't recommend making this recipe in a slow cooker because of all the dairy in it — it may curdle!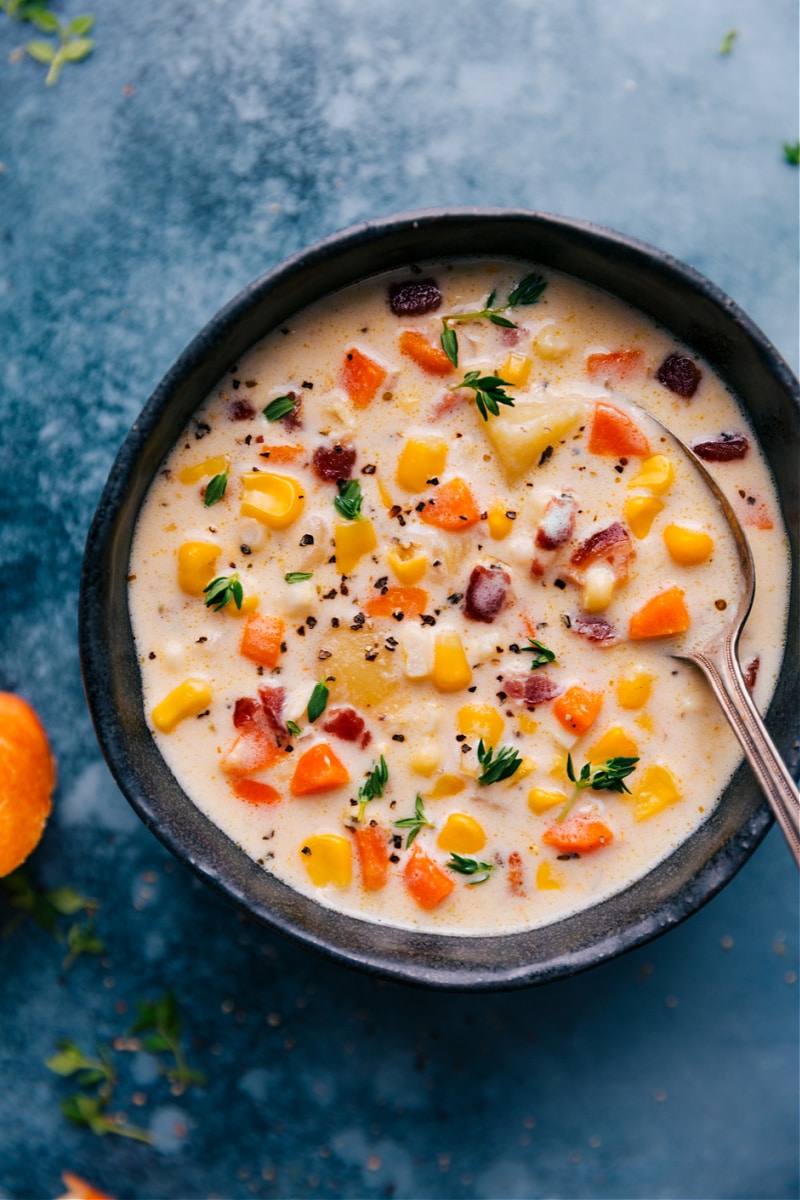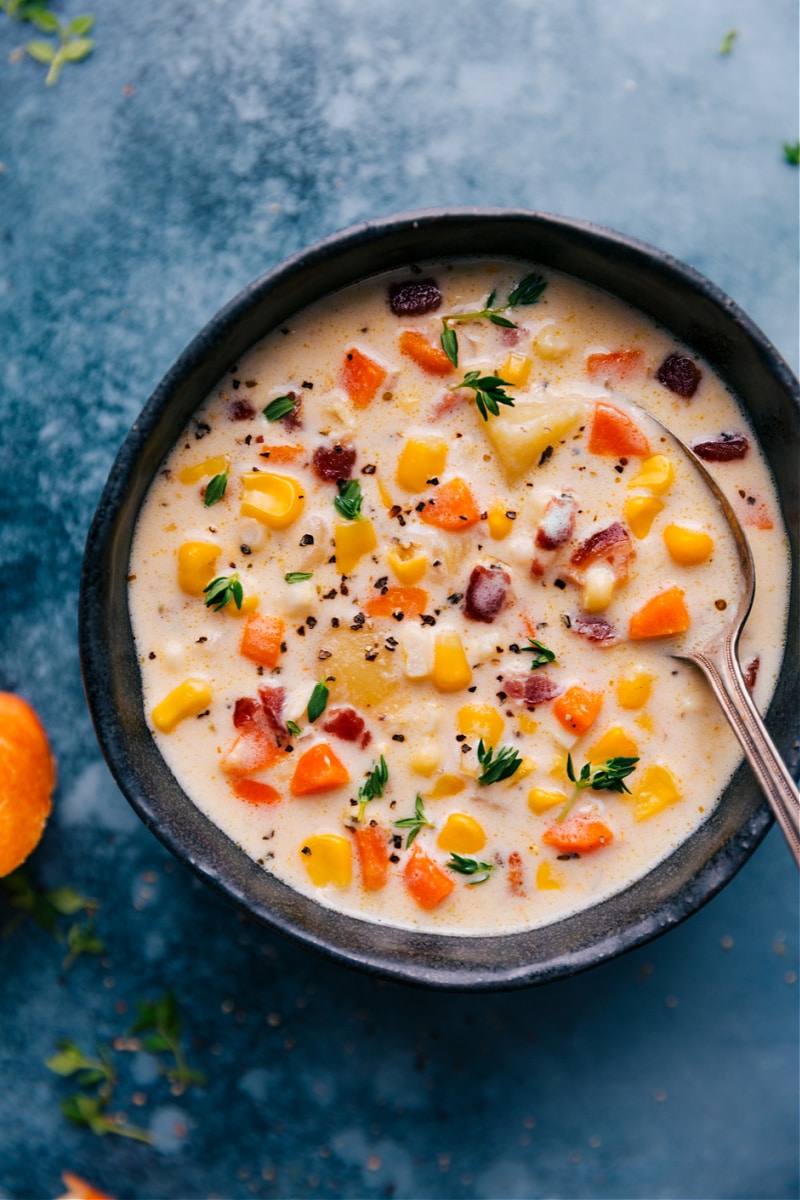 STORAGE
Corn Chowder Storage
Leftover Corn Chowder will keep well in the fridge, in an airtight container, for up 3-5 days. Reheat in a pot over low heat, stirring frequently, until heated through. Don't boil the chowder or reheat it at a high temperature; this will likely cause the ingredients to separate or potentially curdle. Thin leftover chowder with a splash of chicken stock.
Because of all of the dairy in this chowder it isn't a great candidate for freezing and thawing. The milk solids will separate as the chowder thaws, resulting in a grainy texture with some separation. 
More Soup Recipes
Corn Chowder
This is our favorite Corn Chowder with tender veggies, smoky bacon, and sweet corn! This thick & creamy chowder is the ultimate comfort food — nothing better than a big bowl of this with some crusty bread for dunking!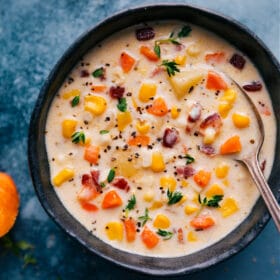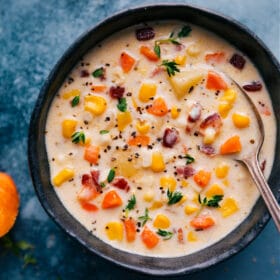 Corn Chowder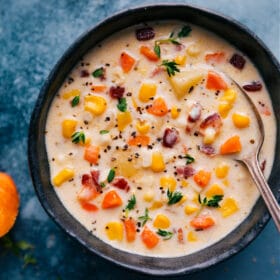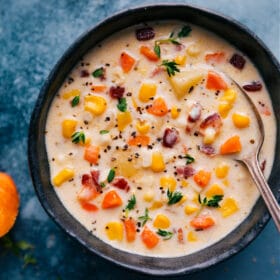 This is our favorite Corn Chowder with tender veggies, smoky bacon, and sweet corn! This thick & creamy chowder is the ultimate comfort food — nothing better than a big bowl of this with some crusty bread for dunking!
Ingredients
4-1/2

cups (677g)

corn

Note 1

6

slices (7.5 oz.; 215g)

thick-cut bacon,

chopped

2

tablespoons

unsalted butter

1

tablespoon (15g)

minced garlic

(~3-4 cloves)

1-1/2

cups (181g)

diced yellow onion

(1 large onion)

1

cup (126g)

diced carrot

(2-3 large carrots)

1/4

cup (38g)

white flour

1

teaspoon

Italian seasoning

1/4

teaspoon

dried thyme

3

packed cups (449g)

unpeeled gold potatoes,

cut into bite-sized pieces

2

cups (443g)

chicken stock

3

cups (720g)

whole milk

1

large

or 2 small bay leaves

1/2

cup up to 1 cup

heavy cream

Note 2

Fine sea salt & pepper

Optional: for serving: fresh herbs (like diced parsley or thyme), crusty warmed & buttered bread
Instructions
OR FROZEN CORN: Measure out 4-1/2 cups of corn and set aside. Keep remaining 1/2 cup out and allow to slightly thaw. (Note 1)

BACON: Dice the bacon into small pieces (this is easiest with cold bacon and a sharp knife!). Add to a large pot (5.5 quart or larger) over medium-high heat. Stir frequently, cooking until bacon is golden and fat is rendered. Leave the fat behind and use a slotted spoon to remove the bacon onto a paper towel lined plate. Set aside for now.

VEGGIES: Lower heat to medium. Add in the 2 tablespoons butter and cook until melted. Once melted, add in the diced onion, diced carrot, garlic, and salt/pepper to taste (I add 1 teaspoon of each here.) Cook for 5-7 minutes or until onion is golden. Add in the 1/4 cup flour. Cook, stirring constantly, for 1 minute. Then add in the 1 teaspoon Italian seasoning and 1/4 teaspoon dried thyme and chopped potatoes. Cook, stirring constantly for 30 seconds.

BROTH: Gradually add the chicken broth while mixing constantly, scrape the bottom of the pot to release any browned bits. Mixture should be fairly thick. Add in the milk and bay leaves. Stir. Add the bare corn cobs you set aside earlier and press under the liquid. Increase heat to medium-high and bring the soup to a simmer. As soon as the soup is simmering, reduce the heat and add a lid to the pot. Stir occasionally, checking that soup is simmering gently, but not boiling or bubbling! After stirring promptly return lid. Cook for 13-19 minutes or until potatoes are fork tender (fork can easily pierce through). If potatoes still aren't tender at this time, slightly increase the heat but watch to make sure the soup doesn't boil.

FINISHING: Take off the lid and use tongs to pull out the corn cobs and dispose. Add in all the corn and cook for another 5-7 minutes or until corn is crisp tender/cooked to your liking (we like it to have some crunch/crispness still!). Mix through as much cream as you'd like — you can even leave it out if you're watching calories. We typically add 1/2 cup. Mix through and taste the soup adding additional salt/pepper as needed. Flavors should be vibrant!

SERVE: Mix through about half of the bacon and fresh herbs if desired. Serve into bowl and add remaining bacon to top each bowl. Garnish with additional fresh herbs if desired. Serve with a hunk of bread and enjoy!
Recipe Notes
Note 1: You can use fresh or frozen corn in this recipe. Obviously fresh is best, but frozen is still so tasty! For fresh corn, you'll need about 5-6 large ears of corn. We'll use a total of 4-1/2 cups of fresh corn or 5 cups of frozen corn. If using frozen corn, I like to set aside 1/2 cup and char it in a dry skillet as a chowder topping. (This is optional.)
Nutrition Facts
Serving: 1serving | Calories: 284kcal | Carbohydrates: 38.1g | Protein: 12.3g | Fat: 10.5g | Cholesterol: 28.3mg | Sodium: 298.8mg | Fiber: 3.7g | Sugar: 12.9g
We do our best to provide accurate nutritional analysis for our recipes. Our nutritional data is calculated using a third-party algorithm and may vary, based on individual cooking styles, measurements, and ingredient sizes. Please use this information for comparison purposes and consult a health professional for nutrition guidance as needed.