Paneer PROTEIN: Nutrition facts 100gm, calories, & dishes
In this article, we will look into the nutrition facts and protein in 100gm paneer. Later, we will see total calories in two of the famous paneer recipes, namely "Paneer Tikka" and "Paneer Bhurji".
Paneer, also known as cottage cheese, is the all-time favorite food item of Indians, let it be for special occasions, diet food, or muscle building.
Dieticians and gym trainers advise people to add paneer to their diet due to the high protein content in it. This is like a boon for vegetarians who have only limited options for protein consumption.
Paneer is good for all requirements whether your want to build muscles, lose weight or gain weight.
Having said that, let us now look into the details of nutrition facts and protein in 100gm of paneer.
Protein in 100gm of Paneer

100 grams of paneer has 21.43 grams of protein in it (source). It means if you eat 100 grams of paneer, you will get approx. 21 grams of protein.
The best part with paneer is that you have a variety of option to consume it.
Some like to grill it, some put it in a variety of Indian curries, some add in a salad, some stuff it in rolls and parathas.
So, if you are planning to add more protein to your diet, paneer is your best buddy.
Once you have known the total protein in 100 grams of paneer, let us now dig deeper to find out the nutrition facts of paneer.
Nutrition facts of Paneer 100 grams

| | |
| --- | --- |
| Nutrition facts of paneer 100gm | Estimated values |
| Protein | 21.4 grams |
| Fat | 25 grams |
| Carbs | 3.57 grams |
| Fiber | 0 grams |
| Total calories (100 gm) | 321 calories |
Paneer is made of 50% water, 21% protein, 4% carbs, and 25% fat.
Calories in Paneer 100 grams
100 grams of paneer has 321 calories in it. Out of which, you get 21.4 grams of protein, 25 grams of fat, 0 grams fiber, and 3.57 grams of carbs.
Paneer for weight loss
As you can see 100 grams of paneer has 321 calories out of which you get straight 21 grams of protein, making it an idle option for muscle building and weight loss.
Yes, paneer is a great option if you want to lose weight. High protein content in it makes the human body a little longer time to digest.
Therefore, avoiding unnecessary eating between meal hours, and thus consume fewer calories and promote weight loss.
Another great thing about paneer as a good option for a weight loss diet is that it ensures muscles gain by proving enough protein.
People on weight loss have a chance of losing muscles with weight. And having paneer helps you fill those missing proteins from your weight loss diet.
So, paneer is not just helpful for bodybuilders but also a great diet for people on a weight loss journey. I must say, I loved my weight loss journey with paneer.
I used to have it in different forms like adding in salads, curries, moong dal chillas, soup, making bhurji, and tikkas.
So, before you plan to add paneer tikkas and bhurji to your diet, have a look into the total calories in paneer bhurji and paneer tikka.
Must read:

1. Homemade protein shake for weight loss

2. Best protein powder in India

3. Soya chunks: Nutrition facts 100g, calories and benefits
Calories in Paneer Bhurji and protein

One serving of paneer bhurji gives you approx. 289 calories. Out of which you get 18 grams of protein, 16 grams of fat, 19 grams of carbs, and 3 grams of fiber.
Paneer bhurji is very easy to prepare and requires only a few ingredients that are easily available at home. It is prepared with scrambled paneer, onion, tomatoes, and some spices.
The great thing about paneer bhurji is that you can prepare it in less oil and still enjoy the flavor.
As we have seen that eating 289 calories of paneer bhurji gives you approx. 18 grams of protein.
But if you want to make it a more meaningful diet for your weight loss then mind the oil going in while cooking.
Secondly, mind the number of calories you are going to have with this recipe. Eating in moderation can make it a perfect diet for weight loss.
Some protein-rich recipes for you:
Calories in Paneer Tikka

One serving of paneer tikka gives you approx. 448 calories. Out of which you get approx. 27 grams of protein, 25 grams of fat, 29 grams of carbs, and 3 grams of fiber.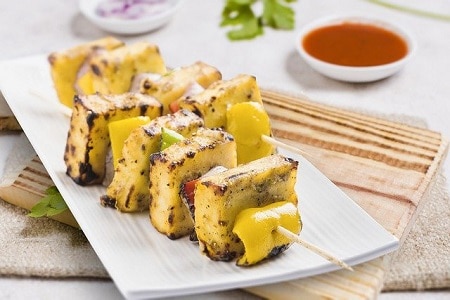 Paneer Tikka is another popular dish widely enjoyed in India.
From Indian households to restaurants, to street-side food stalls, paneer tikkas are easily available.
It is great in taste and at the same time very healthy if oil is used in moderation.
If you want to add panner tikka to your diet then avoid eating in restaurants and streets as they add more oil, artificial colors, and other harmful ingredients to it.
You can easily make it at home and enjoy having it.
Disclaimer: Above article is just for your information and should not be considered as medical advice. Please consult any authorized medical professional before following any of the tips and facts shared in this article.